The Doll Boutique is an unforgettable shopping experience located near the historic town of Lititz, Pennsylvania.  We specialize in creative outfitting for your American Girl Doll®,  with an ever evolving supply of fun accessories and clothes.  We also carry a small selection of Bitty Baby items, and, new for this year, a growing selection of Wellie Wisher clothes!
In our American Girl Doll Store, we have everything from jeans and tennis shoes, to that colonial dress that would look great on Felicity. There are so many more sports items, glasses, furniture, party supplies, beach toys, that we can only offer a sample of our inventory on the website.  And, if you still cannot find that perfect cheerleader outfit, talk to one of our expert tailors about designing one to match your team colors.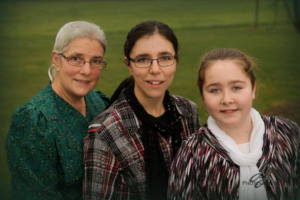 The Doll Boutique Story
The Doll Boutique began in the early 90's as a hobby, when a local Mennonite woman began creating outfits for her nieces'  teddy bears and Cabbage Patch dolls.  Their friends started asking for clothes for their dolls, and the business began to grow.  When the orders came faster than this mother of five could fill, the current owners, Elizabeth Weaver and Janet Fox were hired to sew doll clothes.  The clothes were sold at Roots Market, the local farmers market in Manheim Pennsylvania, and later at Foxshire Mall and Park City Mall in Lancaster.
In 2002, The Doll Boutique was transferred to the Elizabeth Weaver and her daughter Janet, although the original owner continued to sew some of the clothes for several more years.  Three years later, in 2005, a new store was opened in the basement of Elizabeth's home, and remains one of those "best kept secrets" of rural Lancaster County.
Today the Doll Boutique continues as a combination of family hobby and family business.  As a young girl, Janet enjoyed helping her mother with the doll clothes, and now her children enjoy helping mommy and grandma with little tasks in the store, and of course, love trying out the new patterns on their dolls!